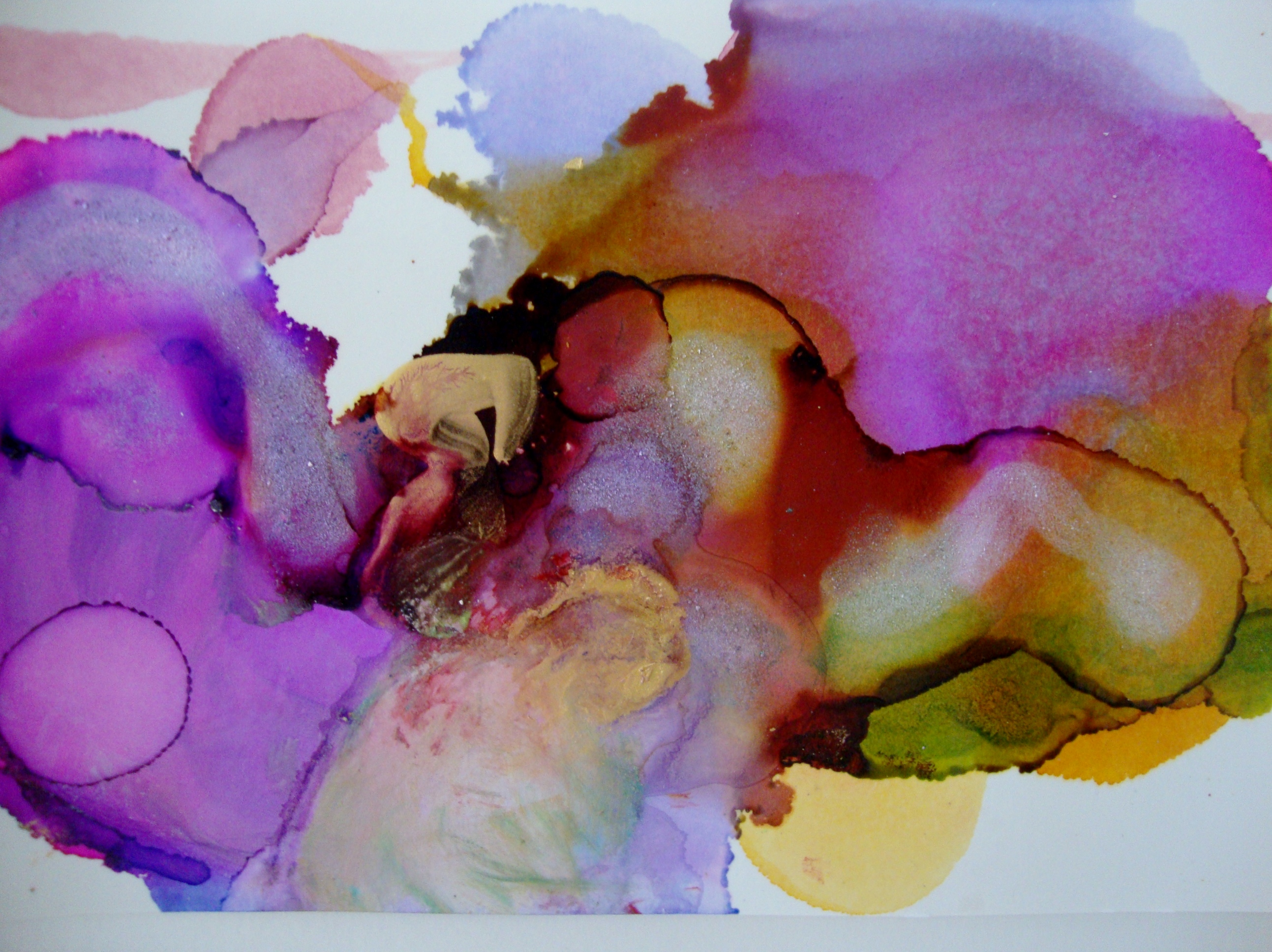 Moon Mother Magic 4"x7"

Solo Exhibitions *Selected Exhibits Listed


2008 Huitai Art Center solo exhibit. -Irene Neal,Catalog Tianjin,China.

2003 Trans-Lux Corporation John Cocteau -Irene Neal Acrylic Paintings, Sante Fe N.M.

2001 Cooper Classics Collection -"Joyful Journey" New York, NY Catalog essays by Kenworth W. Moffett, Donald Kuspit and Marcel Paquet
1993 Wilson College, Chambersburg, PA-Sculptural Paintings
1986 Westmoreland Museum of Art, Greensburg, PA- Curated by Paul Chew, Catalog Essay written by Valentin Tatransky
1980 The Pat Ackerman Gallery, Memphis, TN
1977 The Planetarium of Rio de Janeiro, Brazil-Curated by Sandro Donatello
1975 Allied Chemical Corporation, Morristown, NJ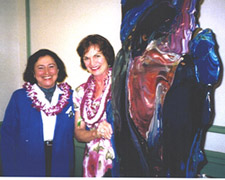 Above Irene Neal recieved a Tift Award at Wilson College and is shown with
her work of art "Currently Blue". (2003)
GROUP EXHIBITIONS
2014 The Fl3tcher Exhibit, Juror Elliott Earls, Oct 15-Dec3, Social & Politically Engaged Art, Cranbrook Academy of Art,Johnson
City,TN

2014 Ashok Jain Gallery, New York, N.Y. Curated by Richard Vaux, June 25-July 20
Bilhenry Gallery, Art Expo New York, Pier 94, April 4-6

2013 Bilhenry Gallery at "Spectrum-Miami Venue (booth#513)" Art Basel, Dec. 4-8 Miami,FL
Artifact, "Irene Neal" and "Matt Anzak", July 10-28, catalog essays by John Austin, N.Y.NY
Long Beach Island Foundation Art & Sciences, July 24-Aug 19, NJ
Marcel Paquet Gallery, Irene Neal, Lucy Baker, Amann, July, Biarritz, France

2012 JFGallery, West Palm Beach, FL Sept-Oct "Art & Psyche 11/28-1/28,Miami,FL
Lumin/Arte Design,LLC, Dallas, TX
The Metropolitan Art Museum of Tanggu "International Painting" Tianjin, China, catalog
The Art Gallery of Nova Scotia "Material World" Jan 21-May 6, Halifax, ova Scotia
The Flint Institute Of Arts, "Abstract Expressionism:Then and Now, May-Aug, catalog, pp 124-125 ,Flint, MI
Exhibition of Contemporary Art, Charlie Doster, Bill Kort,Brendan Linane, Irene Neal, Tianjin, China
Tianjin Port Museum, International Contemporary Art Exhibition, Curator Sun Yuexin;Opening Address by Bill Kort, 5 of 17
participating artists: Lucy Baker, Bill Kort, Irene Neal, Bruce Piermarini, Anna Wilska, Tianjin, China
Nina Torres/Fine Art, International Art Exhibition during Art Basel, Miami, FL 11/28-1/12

2011 Art Basel, Red Dot 11/28-12/4, Miami, FL
Art Expo. March 25-27, Pier 94, New York,NY
2009 Florence, Italy The Biennale nternazionale Dell'Arte Contemporanea
2009 Rouge Gallery, Wynwood Art District,'Miami,Florida

2009 Tianjin Modern Museum of Art Irene Neal,Lucy Baker, Bill Kort Tianjin

2003 Elsar Collection, Vancouver, Canada

2003 "Scope" New York, Stevenson Fine Art-The Dylan Hotel, NY
2003 Musee du Bas-Saint-Laurant Riviere de Lupe "New New Painters" Quebec, Canada

2002 Galerie d'Arts Contemporains,-Montreale, Canada

2002 The Durst Organization-Irene Neal and Steven Brent New York, NY

2002 Galerie d'Arts Contemporains,-Montreale, Canada

2002 "New New Painters", The National Galerie, Prague, Czech Republic, Curated Natalie Sykorova, Catalog 120 pages, 50 color & 14 black & white reproductions. April 12 to September 1. Essays by Milan Knizak, Kenworth Moffet, Natalie Sykorova, Thomas Vilcek and David Carrier.
2001 Museum of New New Painters, Toronto, Canada-Inaugral Exhibition: Ten Years of New New Painters
2001 "La Retour du New New painting," Galerie Anne Lettree, Paris, France

2001 9/11 in honor of Americans, National Gallery of Prague
2001 Vibram Show, Milan, Italy
2001 "Les Alliages de la Matiere" Espace Blache Brussels, Belgium-Curated by Gerson Winlinsky
2000 "New New Painters" at the 69th Regiment Armory, New York, (Curated by Kenworth W. Moffett) (May 18-26 Color Catalog essay by Kenworth W. Moffett
2000 "New New Painters" Hotel de Ville, Brussels, Belgium (curated by Marcel Paquet, Mar 17-4 (April "New New Painting") (catalog) 1999-2000 "New New Painters" 'A Viewing', Gelabert (Studios Gallery, New York, NY. Dec 23–Jan 5)
1999 "Permanent Collection" Center for the Arts, Vero Beach, Florida. Curated by Ellen Fisher
1999 "New New Painters" Museum of Contemporary Art, Denver, Denver, Colorado. Curated by Kenworth W. Moffett and Sue Scott(traveling from Flint Institute of Arts, Michigan)Catalog essays by David Carrier and Sue Scott, introduction by John Henry III
1999 Flint Institute of Arts, Flint, MI Introduction by John Henry III (catalog essays by Sue Scott (curator) and David Carrier)
1998 Center for the Arts, Vero Beach, FL "New Acrylic Painting", Curator – Ellen Fischer
1997-1998 The Griffis Art Center, New London, CT "New New Painting" (video) - Curated by Kenworth W. Moffett Museum of Contemporary Art, Palm Beach, FL "New New Painting", curated by Leena Pilcher (video) Fine Art
2000 Gallery, Stamford, CT York College, Queens, NYC Discovery Museum, Bridgeport, CT
1996 Fine Art 2000 Gallery, Stamford, CT "New New Painters"(Catalog/Book essays by Donald Kuspit and Arlene Raven) Galerie Piltzer, Paris, France "Great American Classics" The Vanderleelie Gallery, Edmonton, Canada "New New Painters"
1994 Salander-O'Reilly Gallery in conjuction with Galerie Piltzer, Paris, France, Dec 6-31, New York, NY. "New New Painting"
1992 Phoenix Fine Arts Gallery, Philadelphia, PA Museum of Art, Fort Lauderdale, FL
1991 Wilton Library Association, 5 Sculptors, Wilton, CT
1991 Wilton Rotary Club Art Show, Awarded Best In Show, Wilton, CT
1989 Visual Arts Festival, Edmonton, Canada "The Works", Curated by Graham Peacock Stamford Museum, Stamford, CT "Eight Winners Exhibition", Curated by Kenworth Moffett PMW Gallery, Stamford, CT
1987 Aldrich Museum of Contemporary Art, Ridgefield, CT "State of the Artists"
1986 Westmoreland Museum of Art, Greensburg, PA One person show - catalog essay written by Valentin Tatransky The Wilton Library, Wilton, CT "Cutting Edge". Four man show (paintings chosen and coordinated by Kenworth Moffett). 110 Greene Street, New York, NY "Individuals at Triangle". Curated by Valentin Tatransky
1986 Shippee Gallery, New York, NY "New Directions in Abstractions". Curated by Kenworth Moffett
1985 Stamford Museum, Stamford, CT "Connecticut Painters and Sculptors" Second prize; Juror: Gibson Danes. Stamford Library, Stamford, CT "Four Fairfield County Artists"
1984 Branchville Soho Gallery, Ridgefield, CT Stamford Museum, Stamford, CT "Connecticut Painters and Sculptors" Silvermine Guild, New Canaan, CT "Silvermine Northeast U.S.A." Juror: Hilton Kramer
1976-81-82 Miniature Art Society of Florida, International Award of Highest Merit - Abstract category, Clearwater, FL
1981 Laramie Art Guild, 6th Annual Miniature Art Show- 1st Prize- Laramie, WY 1979 2nd Feira Plasticas, Rio de Janeiro, Brazil 1978 2nd Salao` Carioca de Arte, Funarte, Rio de Janeiro, Brazil 2nd Salao` Nacional De Artes Plasticas, Rio de Janeiro, Brazil, Bronze Medal, by Brazilian Press
1976 2nd Salao` de Marinhas, Rio de Janeiro, Brazil Bronze Medal and Silver Medal; Plaque awarded by Secretary of the Brazilian Navy, Association of Design and Association of Press, Rio de Janeiro, Brazil Brazilian Academy of Arts and Letters (Special Mention of honor presented by Jorge Amado)
1975 Jersey City Museum, Jersey City, NJ New Jersey State Museum, New Jersey Somerset Tri-State Exhibition, New Jersey The National Arts Club, New York, NY Garden State Watercolor Society, Princeton, NJ Grumbacher Award; Juror: Edward Havas(A.W.S.)
COLLECTIONS The Appleton Museum of Art, Ocala, FL Wilson College, Chambersburg, PA The Planetarium of Rio de Janeiro, Brazil International Paper, New York, NY Westmoreland Museum of Art, Greensburg, PA Pepperdine University, Malibu, CA Newport Harbor Art Museum, Newport Beach, CA The Hoover Institution of Stanford University, Stanford, CA St. Matthew Episcopal Church, Wilton, CT Edmonton Art Gallery, Edmonton, Canada Columbia University, New York, NY, Center for The Arts, Vero Beach, FL Museum of Art, Fort Lauderdale, FL Richard M. Scaife, Pittsburgh, PA Alamo Rent-A-Car (Corporate Headquarters), Fort Lauderdale, FL The Denver Center For The Performing Arts, Denver, CO Louis P. Cabot, Boston, MA Flint Institute of Arts, Flint, MI National Gallery of Prague, Czech Republic
AWARDS The Tift Award, Wilson College, Chambersburg, PA. 2003
BIBLIOGRAPHY With Honors in Prague, 'The New New Painters in the Czech Republic' by Ken Carpenter, Canadian Art, pgs 62 – 67, & color/repros, Winter 2002 Vitvar, Jan H. "Barbarati Malinri'z Ameriky do razili do Prahy" MLADA FRONTA ONES, Prague, April 18, 2002, page c6 (cultural section) Dumont, Jean, "Peinture: une voie nouvelle" New New Painting Expositions, Vie des Arts, Montreal, Canada Klein Lee, My most reasonable Post Seasonal Wrap-Up (what is?) New York Arts Magazine, pgs 1-3, 2002 "A New New Armory Show" Gallery & Studio, McCormack, Edward -color photo, Sept/Oct. 2000 "Travel Diary" Art Focus, issue #69 'New York in May' by Pat Fleisher-Black and white Photos, Fall 2000
"New New Painters" Art Focus, NY, by Pat Fleisher, Fall 2000 "The Artful One" Continental, Photos by Gary John Norman of NNP, Dec- 1999 "The New New Painters in Denver" Art Focus, #66 "The Medium is the Message" by Pat Fleisher (color cover) pgs 16-18, 8 color repros, Summer 1999 "Artists Groups", 'Whats New' by Ken Carpenter-Art in America, pgs 51-53, 6 color repros, July1999 "New New Painters Stunning Art Show at Sakura Square", 'The Scene' Art & entertainment Section, The Denver Post, by Jeff Bradley (color photo) May 4, 1999 "New New Painters brings some color to Denver" The Denver Post, by Jack Kreck, May 1999 "Museum of Contemporary opens in Denver" The Cherry Creek Times, by Brian Forbes, Vol 3 issue 7, May 1999 "Substances over Substance" Denver Rocky Mountain News,by Mary Chandler, pp 2D Section D, May 7, 1999 "New New Painting"(Flint Institute of Arts, Flint, Michigan) Introduction by John Henry III, curated by Sue Scott with Essays, by David Carrier and Sue Scott. Catalog 1999 "New New Painting" 2nd printing - Flint Catalog for Museum of Contemporary Art, Denver, Colorado), 1999 The Brazilians, July/August 1999, Irene Neal- Feelings and colors Art Focus, Summer 1999, Cover, Joseph Drapell and New New Painters by Pat Fleisher, pp. 16-18, 8 color photos Inside F.C., "New New Painting", Stamford, June 1997 Rosoff Patricia, Art New England, June 1997, Fine Arts 2000 BIBLIOGRAPHY "New New Painting" Zimmer, William, The New York Times, Dec-1996, "A Dozen New New Painters and A Sculptor, Too" Ebony, David, Art in America, April 1997 Moffett, Kenworth W. "New New Painting", Nouvelle Editions, Francaises, 1992 Who's Who of American Women, 1997-2000 Who's Who in American Art, 1991-2001 Editions Raynor, Vivian, The New York Times, November 1987 Moffett, Kenworth, Moffett's Art letter, July, December 1986; January 1987; June 1988 "Neal Abstracts in New York". Herrick, Betty. The Wilton Bulletin, December 1986 Wilson Alumnae Quarterly, Summer 1986 Miller, Donald, Pittsburgh, Post-Gazette, April 1986 Winokur, J.L., "Neal and Smith", Westmoreland Museum of Art Tribune Review, April 1986 Eliasoph, Philip, Stamford Advocate, February 1986; Oct. 1987 Sykorski, Fran, Wilton Bulletin, Wilton, CT, 1985 Brazil Herald, Rio de Janeiro, Brazil, 1980 Donahue, Michael, Scimitar Press, Memphis, Tennessee, 1979 Brazil Herald, Rio Women's Club, 1979 Reens, Paula, "35th Art of Northeast U.S.A.", Art in New England, Silvermine Guild, New Canaan, CT, 1984 TELEVISION/VIDEO 69th Regiment Armory, New York City, May 18-23, 2000 CBS and individual interviews, Kenworth W. Moffett, curator ANEW Foundation for the Arts, Sponsor Kenworth W. Moffett with Rebecca Saran on "The Exchange", Cablevision, Norwalk, CT, Sept. ' 97 (painting, "Lightning Fish") The Cutting Edge, Panel, shown at Wilton Library, Wilton, CT Paula Reens, Monitor The Aldrich Museum, 1987. State of the Artist, Invitational, Ridgefield, CT MAGAZINE Continental, Dec. 2000, "Artful One" Wilkinson, Todd, pp 50-53 Painting Illustrated Donahue, Michael, Scimitar Press, Memphis, Tennessee, 1979 Brazil Herald, Rio Women's Club, 1979 Reens, Paula, "35th Art of Northeast U.S.A.", Art in New England, Silvermine Guild, New Canaan, CT, 1984 TELEVISION/VIDEO 69th Regiment Armory, New York City, May 18-23, 2000 CBS and individual interviews, Kenworth W. Moffett, curator ANEW Foundation for the Arts, Sponsor Kenworth W. Moffett with Rebecca Saran on "The Exchange", Cablevision, Norwalk, CT, Sept. ' 97 (painting, "Lightning Fish") The Cutting Edge, Panel, shown at Wilton Library, Wilton, CT Paula Reens, Monitor The Aldrich Museum, 1987. State of the artist, Invitational, Ridgefield, CT MAGAZINE Continental, Dec. 2000, "Artful One" Wilkinson, Todd, pp 50-53 Painting Illustrated

For inquires and purchase information
Phone 321 507 4242
Email icneal@aol.com
260 Madrid Court
Merritt Island, FL 32953